I found a most delightful blog today called, A Bowl Full of Lemons. It's a blog about cleaning and organizing your home.   She posted a 21 day challenge to help us all get our houses organized.  I decided to jump right in and tackle the first challenge today since we are snowed in for the day!
Day 1:  Clean out a junk drawer
Clean out a junk drawer!  I chose the junk drawer by our refrigerator where we stuff everything when we clean the kitchen.
I took a picture before…..  It doesn't look like too much junk!
But looks can be deceiving….  Here it is after I took it all out and put it on the counter!
It took about 10 minutes to sort though these items.  I decided to throw away about 75% of it.  I took a few items to other places in the house, but kept a few pens and scissors so they would be easy to find.
And the after picture…..
That was too easy!  What's next????
Want to accept the challenge too?
Click below!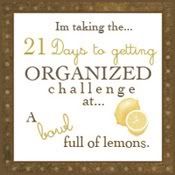 While you are in a cleaning mood, be sure to read, "The Dirty Secrets about Household Cleaning Products" before you start using those dangerous household cleaners. There is a safe alternative for you and your family.
Please leave a comment if you enjoyed this post and want more like it!
Follow me on social media!