Have you looked under your sink lately?
Well today I'm working on Day 5 of the Get Organized Challenge hosted by Toni at A Boxful of Lemons.  I have already organized it in the past, so mostly this was about cleaning all the bottles and folding my dishcloths more neatly and …. getting my DH to change the filter in our BestWater purification system.
First, I took everything out from under the sink, so my DH could get under there to change out my water filter.
Now, I hope this next picture doesn't gross you out, but the truth is the truth….  Even city water that brags to be clean….well… you be the judge!
And here is what a NEW filter looks like….
My Bestwater filter by Shaklee now ready to keep us healthy for another year!
Finally, I threw away a few near empty bottles.  I sprayed my containers with Basic H household solution and wiped them out.  I put everything back in its place.  Here is the "after" picture.
If you want to know about the cleaning products under your sink and if they are harmful, take an interactive online quiz to see.  It's called, "What's Under Your Sink?"
If you are looking to trade out your toxic cleaners for healthy ones, visit my website or email me!
Get Clean offers you nontoxic and natural cleaning choices that are SAFE, POWERFUL, GREEN and SMART. Because when it comes to keeping your house clean and the earth safe, you shouldn't have to choose. When you use Get Clean, you're never simply cleaning. While you make your home cleaner, you can make your family healthier. You also make the planet healthier for other families as well.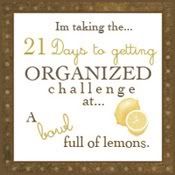 Follow me on social media!